WEDDING AND EVENING DRESSES




THE ESSENTIAL LEARNING PROGRAM
This program is for anyone who wants to design and sew beautiful, perfectly fitted corsets, wedding and evening dresses without wasting years and thousands of dollars on expensive fashion schools.
Learn online at your own pace from the comfort of your home.
"Thanks to Corset Academy I was able to expand my sewing business and to start my own fashion line!"
- Jane C.
"Here I learned about patterns more than in 5 years of studying in a fashion design college!
- Kate G.
"As an experienced designer I must say: Tatiana's courses are fenomenal!"
- Barbara H.
UNLOCK NEW SKILLS




WITH A STRUCTURED CURRICULUM
Start with the must-know basics in sewing, cutting, measurements, pattern drafting, equipment, working with clients and make your first corset in just 1 day!
Learn how to draft your own corset pattern from scratch. Draft pattern with 2 or 4 front curves and variety of neckline styles.
Learn how to choose perfect styles for different body types, avoid common mistakes and achieve perfect fitting.
Pattern Styling and Alteration
Practice altering the pattern for ANY SIZE and ANY STYLE.
Master the pattern design once and for all.
Make a perfect 2 curve corset for any size from start to finish. From the pattern to the decoration finishes, complete step-by-step tutorial.
Corset with 4 Curves and Quilted Cups
Make a perfect 4 curve corset with quilted cups for any size from start to finish. From the pattern to the decoration finishes, complete step-by-step tutorial.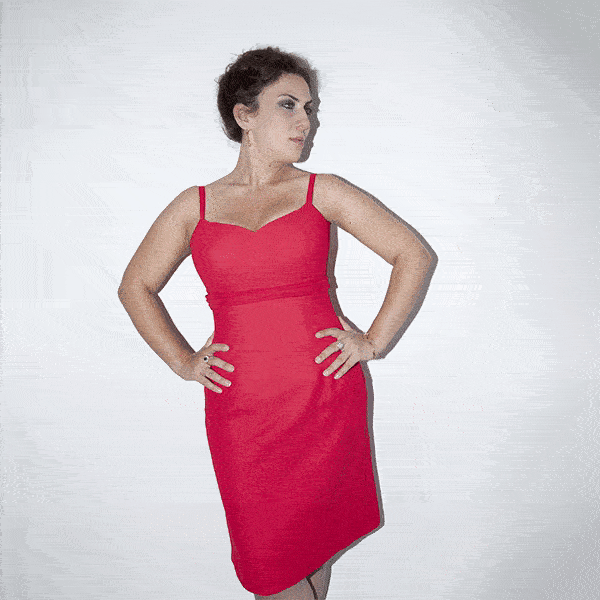 Plus Size Evening Dress with Hidden Lacing
Learn how to make plus-sized dresses with perfect and beautiful fit. Master the hidden lacing techniques. Complete step-by-step tutorial.
Wedding Dress with Deep Neckline and a Whole Piece Train
Create your own wedding dress. The complete step-by-step tutorial offers variety of styles, not limited by the presented dress design.
Dress with Lace Straps and Full Skirt - Contact-Free Sewing
Complete step-by-step sewing tutorial on making this beautiful, classic and timeless design.
Contact-free personalized sewing method for long-distance clients or working in pandemic conditions.
Pattern Alterations Calculation Software
With the Corset Academy software there to act as your "Personal Assistant" you will be able to calculate fabric consumption, pattern adjustment, style variations for any body type in seconds.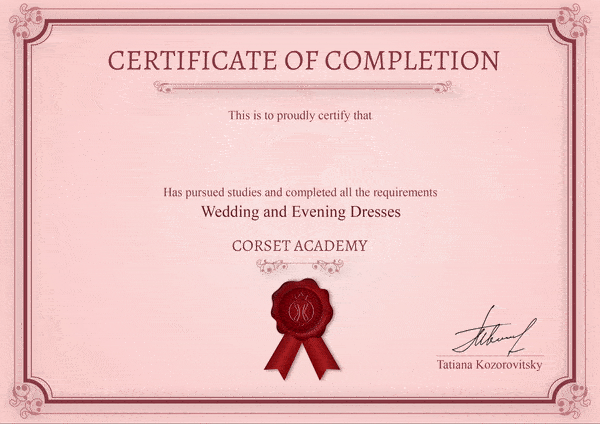 The program is result driven. Complete all the tasks and receive a personal Certificate of Completion.
WHO IS THIS TRAINING FOR?
You want to make a wedding dress for your daughter, a fancy cocktail dress, cosplay or you are sewing for personal joy.
You are planning to start and develop your own fashion career and earn money doing what your love.
You are expanding your fashion business, adding new services, improving products and developing your staff.
WHAT YOU GET AS A RESULT?
Skills for making perfectly fitted custom dresses in any size and style.
Professional tools for working with VIP clients with any body types.
The tools for creating your own high-end diverse collections.
Skills and methods of earning $$$ doing what you love.
TATIANA
KOZOROVITSKY
​
The founder and the lead designer at the online fashion design school "Corset Academy".
​
Tatiana is recognized as a worldwide wedding fashion designer with 25 years experience. She is an acclaimed tutor and the former BurdaStyle lead wedding and corset-making instructor.
​
Her unique sewing methods have already helped thousands of designers all over the world to master the skills, to realize their creative potential and to achieve financial goals!
Her students are living their dream of doing what they love!
​
Tatiana's mission is to give everyone who wants to become a fashion designer an opportunity to learn and develop professional skills.