CONGRATULATIONS ON GETTING THIS FAR!
Why stop now?
​
Join Corset Academy VIP, create high-end wedding and evening gowns and achieve PERFECT FITTING for your clients!
​
As promised, we prepared a SPECIAL BONUS for you:
You'll Make Perfectly Fitted High-End Garments


Or Your Money Back Guaranteed!
This is the craziest offer we've ever made!


And we are making it because our courses can guarantee the development of your sewing skills!

If after completing

the main program

you won't be able to make a PERFECTLY FITTED corset garments, won't feel completely SATISFIED and ENLIGHTENED and your dressmaking skills won't EXPAND, contact us for a refund, no question asked!
"I was a total newbie when I joined the classes and now I own a bridal salon!"
- Melanie K.
"Here I learned about patterns more than in 5 years of studying in a fashion design college!
- Kate G.
"I've been making dresses for over 15 years now, yet I learn SO much!"
- Brittany B.
Billed monthly
Cancel anytime
How does the VIP membership work?
You get access to:
The main learning program "Wedding and Evening Dresses"

45+ additional professional classes

100+ sewing patterns

the software
​
Follow our recommended learning program or build your own flow and schedule.
Join Corset Academy VIP
and Start with the Basics
Learn Advanced
Skirt Making
45+ Classes
A-Z expert-led instructions
Learn Pattern Drafting for Perfect Fitting
30 Lessons
Average per class
Learn High-End
Dressmaking
Learn Haute Couture Decoration and Finishes
15 Minutes
Average per lesson
Get 45+ classes,
100+ patterns
and the software.
Unlimited access to the library

Download 100+ PDF sewing patterns

Illustrated workbook for every video

Text translation to any language

Flexible flow and schedule

Pattern Alteration Software

Watch on desktop, tablet or phone

Community access

Personal support

Graduation certificate

New classes added constantly
The main learning program agenda
Start with the must-know basics in sewing, cutting, measurements, pattern drafting, equipment and working with clients.
Learn how to draft your own corset pattern from scratch. Draft pattern with 2 or 4 front curves and variety of neckline styles.
Learn how to choose perfect styles for different body types, avoid common mistakes and achieve perfect fitting.
Pattern Styling and Alteration
Practice altering the pattern for ANY SIZE and ANY STYLE.
Master the pattern design once and for all.
Make a perfect 2 curve corset for any size from start to finish. From the pattern to the decoration finishes, complete step-by-step tutorial.
Corset with 4 Curves and Quilted Cups
Make a perfect 4 curve corset with quilted cups for any size from start to finish. From the pattern to the decoration finishes, complete step-by-step tutorial.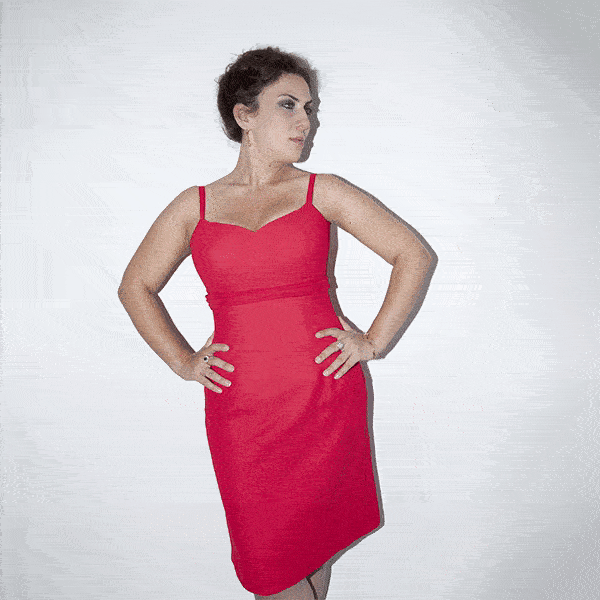 Plus Size Evening Dress with Hidden Lacing
Learn how to make plus-sized dresses with perfect and beautiful fit. Master the hidden lacing techniques. Complete step-by-step tutorial.
Wedding Dress with Deep Neckline and a Whole Piece Train
Create your own wedding dress. The complete step-by-step tutorial offers variety of styles, not limited by the presented dress design.
Dress with Lace Straps and Full Skirt - Contact-Free Sewing
Complete step-by-step sewing tutorial on making this beautiful, classic and timeless design.
Contact-free personalized sewing method for long-distance clients or working in pandemic conditions.
Pattern Alterations Calculation Software
With the Corset Academy software there to act as your "Personal Assistant" you will be able to calculate fabric consumption, pattern adjustment, style variations for any body type in seconds.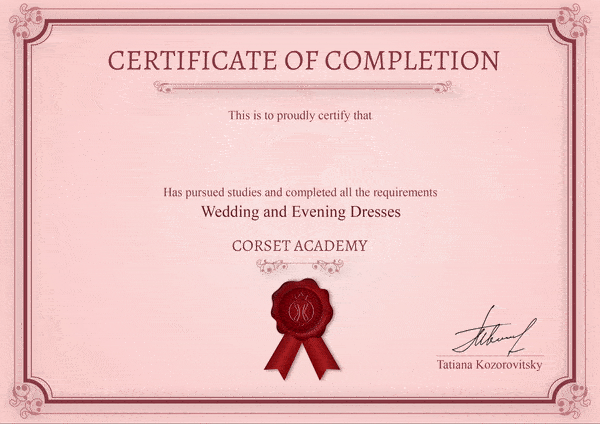 The program is result driven. Complete all the tasks and receive a personal Certificate of Completion.
After completing the program you'll have all the knowledge
and the tools for creating

your own fashion collection

.
Fashion designers LOVE Corset Academy
"I have gained so much knowledge, skills, and confidence to provide perfect fitting for my clients.
The wide range of tutorials means I'll always have something new to learn! I recommended to all my friends! Thanks so much!"
Get Started Today




Save 35%!
Choose a payment plan for you
Billed monthly
Cancel anytime
​
*The monthly memberships are automatically billed each month on the anniversary of the membership and can be canceled at any time in one click in the 'My Account' section.
**The yearly membership renews automatically 12 months after the first day of paid membership. Cancellation of yearly memberships won't affect account access until the billing anniversary is reached.
For more information see FAQ or contact our support team.