MAKE

GORGEOUS


DRESSES




EVEN IF YOU'RE A BEGINNER
ACHIEVE

THE PERFECT FIT

FOR YOURSELF OR YOUR CLIENTS
24/7 ACCESS
FROM ANY DEVICE
NEW COURSES ADDED FREQUENTLY
FOLLOW OUR RECOMMENDED LEARNING PROGRAM
OR BUILD YOUR OWN FLOW AND SCHEDULE
45+ COURSES




A-Z expert-led instructions
30

LESSONS




Average per class
15 MINUTES




Average per lesson
EXPLORE THE WORLD'S LARGEST

LIBRARY OF DRESSMAKING COURSES
The Pattern Alteration Software separates us from any other sewing school ever created.
​
With the Corset Academy software there to act as your "Personal Assistant" you will be able to calculate fabric consumption, pattern adjustment, style variations for any body type in seconds.
​
Use this patented one-of-a-king software to leave your competition behind.
TATIANA
KOZOROVITSKY
​
Founder and lead designer in Dressmaking Academy.
​
Tatiana is recognized as a worldwide wedding fashion designer with 25 years experience. She is an acclaimed tutor and former BurdaStyle lead wedding and corset-making instructor.
​
Her unique sewing methods have already helped thousands of designers all over the world to master the skills, to realize their creative potential and to achieve financial goals!
Her students are living their dream of doing what they love!
​
Tatiana's mission is to give everyone who wants to become a fashion designer an opportunity to learn and develop professional skills.
Get access to the exclusive fashion design courses, create exquisite gowns and unleash your creativity with new skills!
THE COURSES DESIGNED FOR ANY SKILL LEVEL.
OUR MEMBERS DESIGN GOWNS FOR CELEBRITIES
"Corset Academy is an amazing resource to help upskill my work. I have gained so much knowledge, and confidence to provide the best work I can to my clients"
DIPLOMA CERTIFICATE
Complete the essential program and receive a personalized certificate.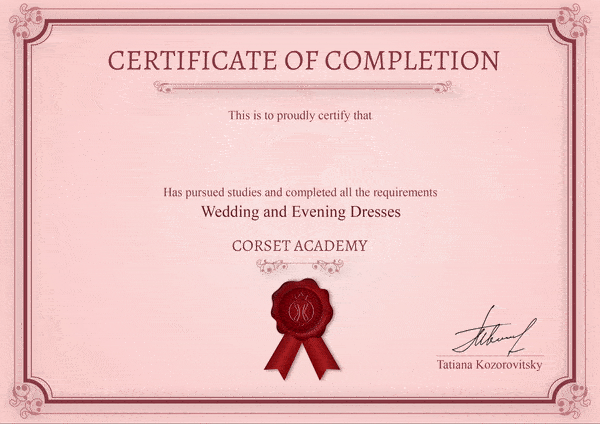 BLACK FRIDAY SAVINGS




50% OFF



ALL-ACCESS

VIP

MEMBERSHIP
Enjoy

24/7 access

to the world's largest library of dressmaking courses for all skill levels.
Lifelong plan allows unlimited access for all the current and future content. One payment - forever VIP access.
The annual membership renews automatically 12 months after the first day of paid membership. Cancellation of annual memberships won't affect account access until the billing anniversary is reached. Monthly memberships are automatically billed each month on the anniversary of the membership and can be canceled at any time in one click in the 'My Account' section.
If paid with PayPal accounts will be activated within 12 hours or less.
THE BEST RETURN ON INVESTMENT
JUST
ONE
SEWN DRESS WILL COVER THE PRICE OF YOUR COURSE!
YOU'LL MAKE PERFECTLY FITTED HIGH-END GOWNS


OR YOUR MONEY BACK GUARANTEED!
We are happy only when you are happy!




That's why we offer a "Corset Academy Double Guarantee":




14-day money back - no question asked:




Make an informed decision: try it and if it's not for you, that's okay. You'll get a full refund, no question asked.





Results guarantee:




If after completing the program you won't be able to make a PERFECTLY FITTED corset garment, won't feel ENLIGHTENED and your dressmaking skills won't EXPAND, you'll get a full refund.